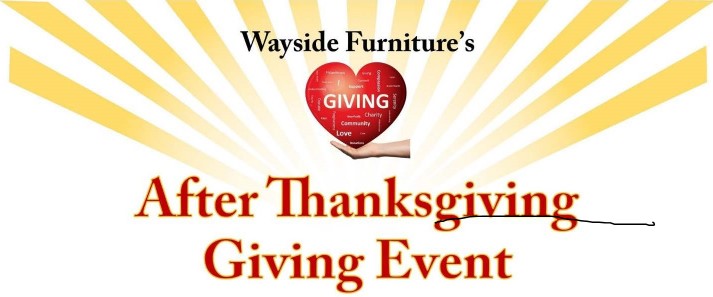 November 24th – November 27th
Bring in a donation for LoveLight, Inc. and Wayside Furniture will make a matching contribution up to $100 between 11/24-11/27 or until $200,000 is given.
No cash or credit cards. Donation must be in the form of a check written to LoveLight, Inc. Please be sure to include your name, address, and phone number. This is a wonderful opportunity to double the donation you make to support the work of LoveLight in promoting the education and healthy development of children and teens.
The LoveLight Market
The LoveLight Marketplace is a way of generating additional money to support LoveLight's efforts on behalf of youth. The Marketplace supports LoveLight as it promotes local merchants who offer unique items for your enjoyment. Vendors interested in having your business/website featured here and sending LoveLight a small percentage of your sales from customers who visit using a special promotion code LLMarketplace23, please fill out the LoveLight Marketplace Application. Come visit the LoveLight Marketplace.
2023 Multicultural Holiday Festival



Vendors,

LoveLight, Inc. is planning to hold a multicultural holiday festival celebrating several fall and winter holidays, on Saturday, November 4th as a fundraiser to support our programs serving lower-income youth and their families. The event will be held at Kent Roosevelt High School, 1400 North Mantua Street, Kent, Ohio from 10 a.m. to 4 p.m. The holiday festival will include a silent auction of donated decorated Christmas trees & Thanksgiving wreaths (winning bidders announced at 3:30 p.m.), entertainment, refreshments, children's activities, and vendor tables offering a variety of items for sale. Tables will be provided.
Non-profit tables: $25. For-profit tables: $30. If possible, we are asking you to donate an item for the raffle that will be held on the day of the event.
If you are interested in having a table at this event, please Download and Complete the Vendor Form and send the form with your check to LoveLight, Inc. P.O. Box 123 Kent, OH 44240 OR send the form to Stephanie at sbrook22@kent.edu and pay via Zelle to lovelightcares4us@gmail.com
Vendors applying for a table will receive one free raffle ticket.
Questions? Please call Betsy at (330) 554-8872.
"Show Love, Share Love,
Spread Love:
Invest in Our Children"
LoveLight, Inc. is inviting you to be a shareholder in a child's future as we create an innovative model intergenerational child development and lifelong learning center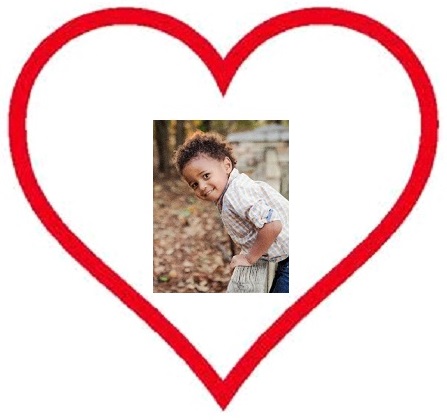 Donations made be made via a check to LoveLight, Inc. at P.O. Box 123, Kent, Ohio 44240 OR a deposit to a LoveLight savings account at Hometown Bank, Huntington Bank, Portage Community Bank, or Key Bank, OR by using the QR code below, which will enable you to donate through PayPal, OR send via Zelle to lovelightcares4us@gmail.com
LoveLight Inc. is an organization of community inclusivity, excellence and integrity. LoveLight Inc. has consistently served families of Portage county for twenty-seven years and is important to the continued growth and development of a healthy and fulfilled community.
The Chairman of the Board writes "I have been involved in practically every aspect of what makes LoveLight Inc. the outstanding organization that it is. I became acquainted with LoveLight Inc. in 2011 through the Bio Integrative tutoring program. My daughter attended and was provided the utmost respect and dignity. Dr. Justice, the executive director, was heavily involved with the tutoring activities and was readily available to discuss challenges that she found in working with my daughter. This interaction with LoveLight, the volunteers, and Dr. Justice left such an outstanding impression that I became involved through volunteering my time.
Meanwhile, I discovered, not only were the program offerings unique, but there were an abundance of resources made available to families through the programming that Lovelight Inc. offered: employment, transportation, nutritious meals, scholarships to enrichment programming and unique tutoring with a therapeutic component. I would later become involved with organizing many other activities of the organization: Walk for the Children, Trick or Treat for LoveLight, Wayside Fundraiser, GoFundMe Campaign, Fundraising for the STAR Institute and Camp Halim, in honor of the fabulous Halim El-Dabh.
You are invited!
…To be part of an exciting effort to help others in transformational ways
…To invest in the well-being and healthful development of children and youth, especially those who are economically or otherwise disadvantaged
LoveLight, Inc. provides services to young people and their families directly as well as indirectly, through opportunities for educators, parents, and others to learn about innovative approaches for helping children and teens to be successful in school and life.